Leadership for Healthy Community Design (LHCD)

LHCD builds the capacity of Colorado communities to lead, plan and execute community design initiatives.
RIHEL has delivered LHCD to multiple cohorts and we anticipate delivering it again in the future, but we have not determined when the next LHCD will be held. 
LHCD improves the health of people and the environment by building the capacity of Colorado communities to lead, plan and execute healthy community design initiatives and projects.
LHCD brings together multiple geographically-based community teams to develop their leadership capacity and explore practical applications of healthy community design. Each team includes members who represent a different discipline or interest area related to healthy community design (e.g. urban planning, transportation planning, public works engineering, public health, environmental health, parks and recreation, law enforcement, school systems, food systems, elected office, etc.).
The program includes several in-person multi-day retreat training sessions, online workshops, assignments between sessions, a 360 degree assessment of personal leadership behaviors, action learning projects, peer coaching, and team project technical assistance. The LHCD curriculum is anchored in the five elements found in the best leadership development programs, and focuses on:
Building participant leadership skills and capacity
Fostering collaborative leadership practices
Strengthening relationships and strategic partnerships across disciplines
Promoting healthy community design practices
Building capacity for effective and meaningful community engagement
Technical assistance for successful project development and implementation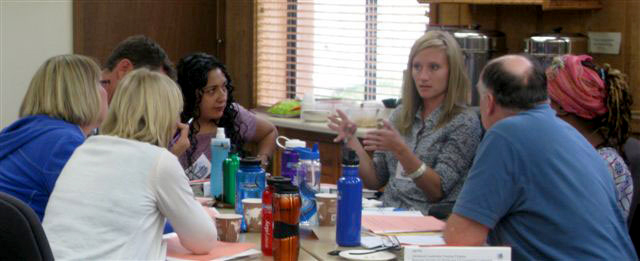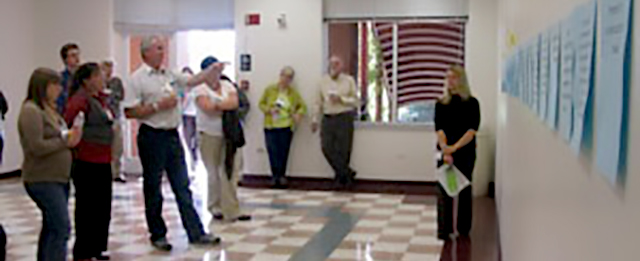 Leadership and Healthy Community Design (LHCD) includes the five elements found in the most effective leadership development programs.
Multi-day retreat training sessions and online workshops
Assignments between sessions including: reading, online videos, online discussion, assessments, and project development.
A 360 degree assessment for each participant of the personal leadership behaviors practiced by them.
Action learning projects – each team develops and implements a leadership project that applies healthy design principles and practices in their community.
Individual peer coaching sessions – each participant meets monthly with their peer coach (a RIHEL leadership program alumni) in support of their personal leadership development.
Team technical assistance – healthy community design experts serving as technical advisors will meet monthly with their team to coach and advise them as they develop and implement their leadership project.
Curriculum Themes: Leadership and Healthy Community Design Principles
II. HEALTHY COMMUNITY DESIGN PRINCIPLES
Healthy community design principles comprise a collection of tools, strategies and practices that, when applied to built environment projects, can have a positive effect on the health of people and the environment. Examples include:
mixed land use and greater land density
good mass transit options
good pedestrian and bicycle infrastructure
multi-modal transportation options
affordable housing
community centers
safe routes to school, play and work
green space and parks
access to fresh fruits and vegetables
These concepts encompass similar models known to foster healthier behaviors and environments, such as Smart Growth, new urbanism, sustainable communities, green building, LEED-ND, building healthy places, and the Ahwahnee Principles. In the LHCD program, participants learn about healthy community design principles and tools, and then apply them to team initiatives/projects that have the potential to best address the health, environmental and design challenges in their community.
Questions about LHCD program?